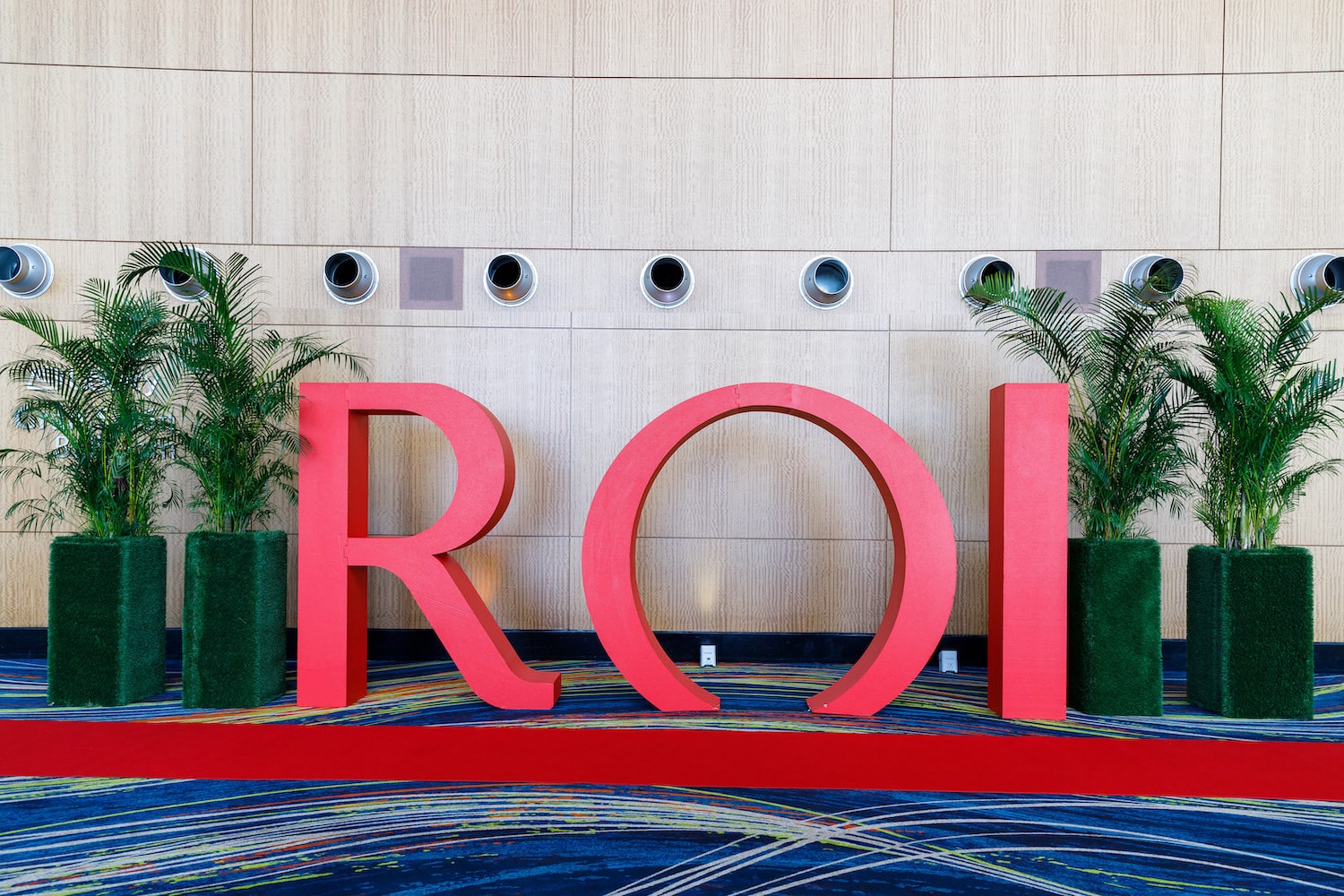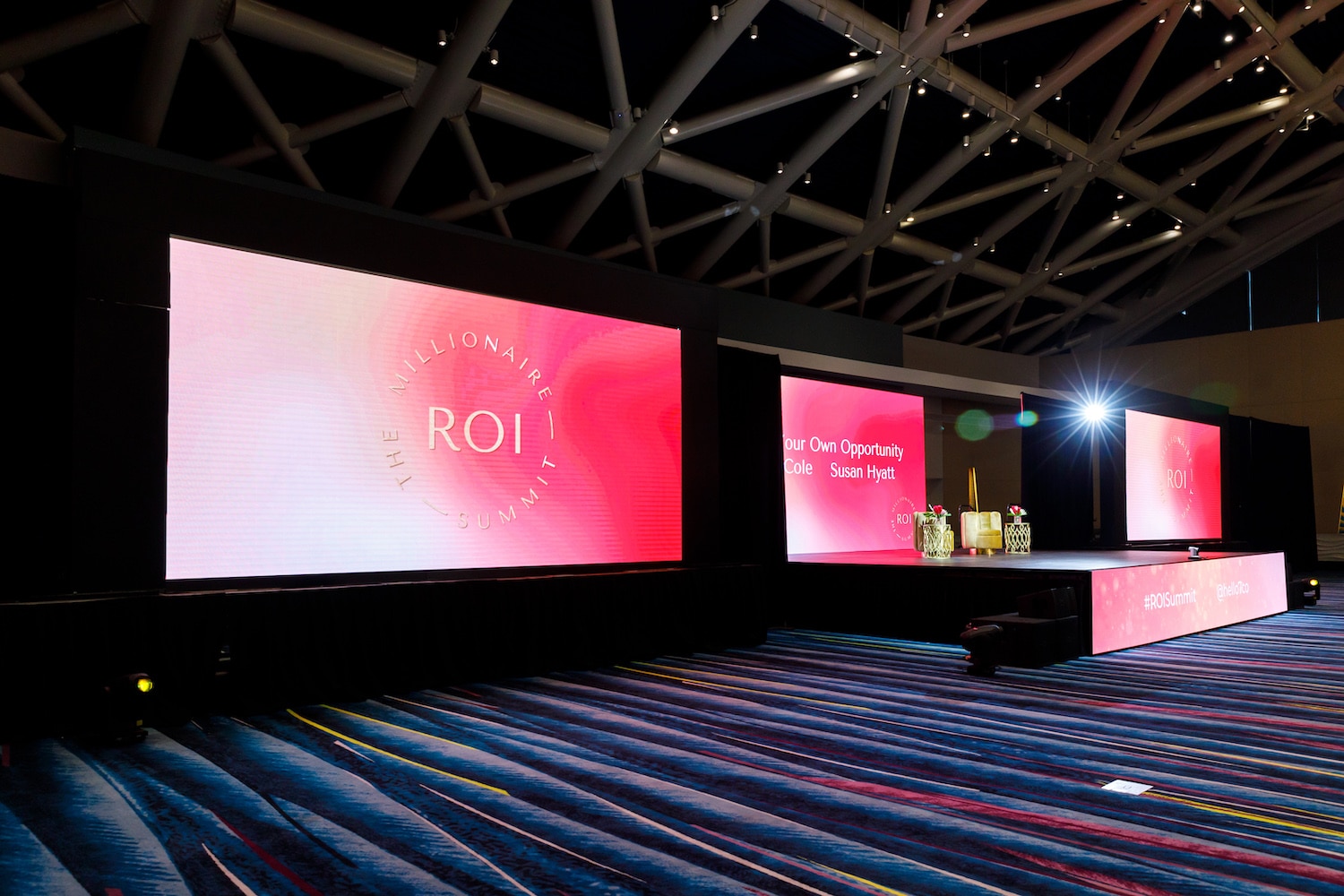 If you're planning to fly, we recommend booking your flight to San Juan International (SJU), which is minutes outside of San Juan.
Our recommendations
Fly into Luis Muñoz Marín International Airport, also known as the San Juan Airport (SJU). 

From the airport, it's a 13-minute car ride to get to ROI.

Puerto Rico has Uber and Lyft, as well as numerous taxi and limousine companies.

There are 588 nonstop flights from the mainland U.S. to Puerto Rico.
Fun Facts! How long does it take to get to Puerto Rico?
From NYC, 3 hours and 45 mins.

From Atlanta, 3 hours and 25 mins. 

From Miami, 2 hours and 30 mins. 

In other words: closer than you think.
Please bring: 
Photo ID

Your laptop, tablet, or a notebook and pen to take notes

Your current business plan and any burning business questions

Business cards or a QR code that points to your LinkedIn (so you can make connections)

Clothing that's suitable for warm weather AND makes you feel like a million bucks

A coachable spirit of possibility, hope, and excitement, and a willingness to learn and take action.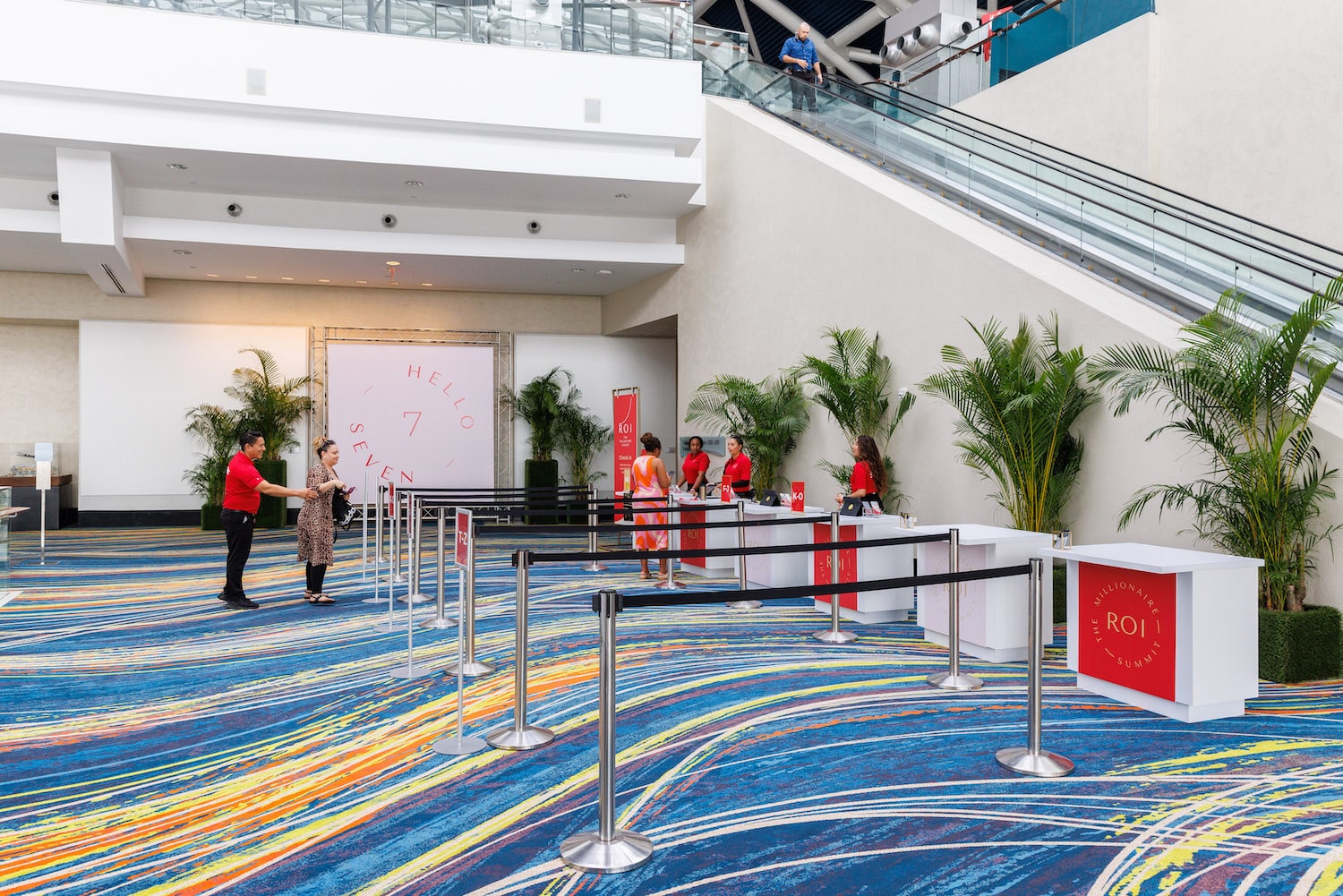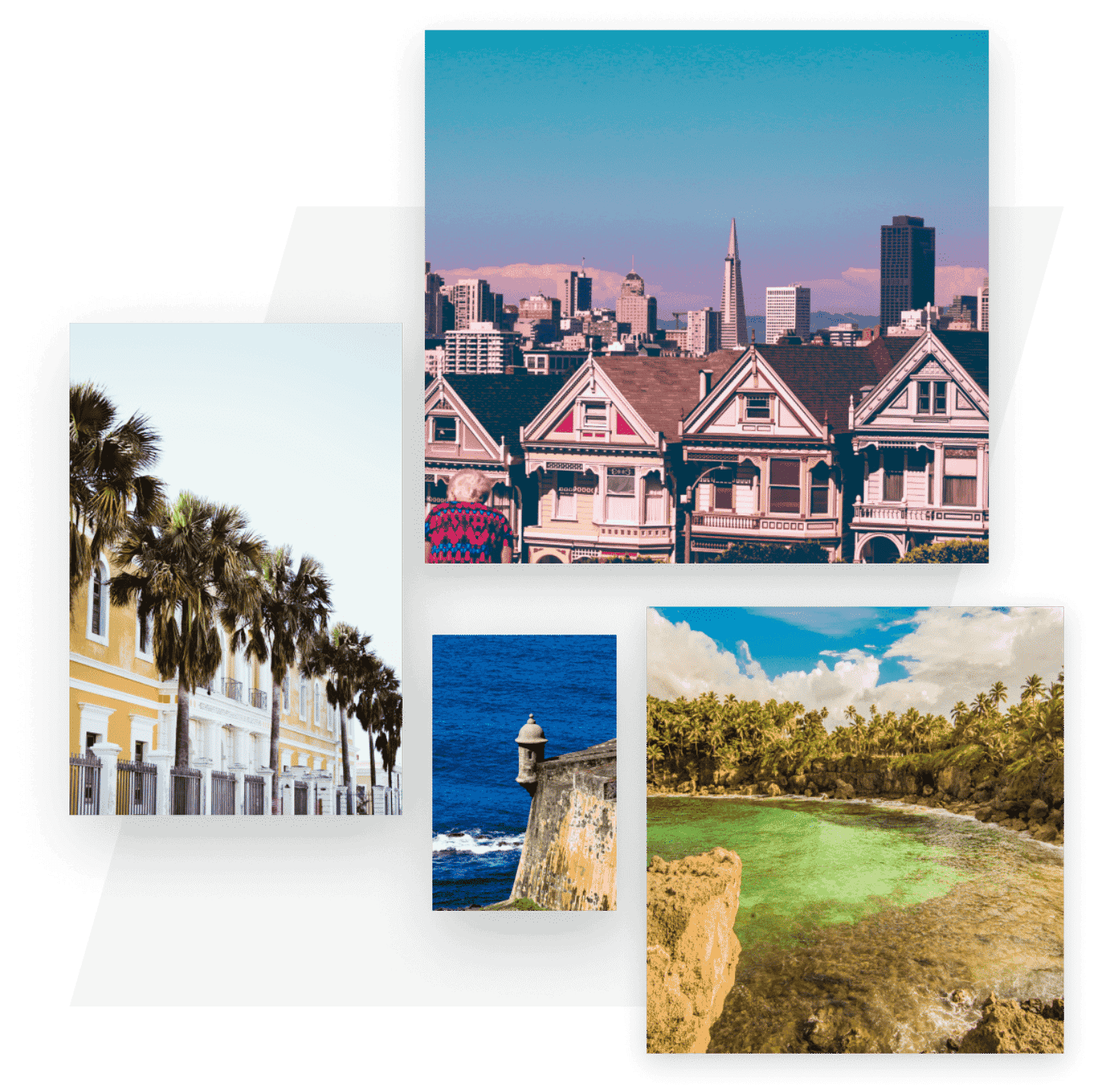 Everything you need to know: 
In January, the weather in Puerto Rico ranges from 72° F (low) to 83° F (high). 

U.S. citizens and permanent residents DON'T need a passport (or visa) to visit Puerto Rico, because it's a territory of the United States. Just show up!

You have a U.S. cell phone plan? You DON'T need an international phone plan in Puerto Rico. You already have coverage. You're all set.

The currency used in Puerto Rico is the U.S. DOLLAR. Bring your Benjamins!

270 miles of coastline and stunning white sand beaches. Just sayin'.

Sonia Sotomayor—first woman of color and first Latina member of the U.S. Supreme Court—comes from Puerto Rican ancestry. So do Lin-Manuel Miranda and Jennifer Lopez. 

Home to the largest rum distillery in the world. The piña colada was invented in Puerto Rico. So…
Choose your San Juan Hotel Adventure
Book at a hotel or find an Airbnb and share with fellow attendees. While we don't offer a room block, we have vetted the following hotels and give them the Hello Seven stamp of approval.
Looking for a historic stay?
The Sheraton Old San Juan
Experience the Old San Juan Historic District at the Sheraton Old San Juan.
The Sheraton Old San Juan Hotel is situated in the heart of historic and romantic old San Juan. We are ideally located on the waterfront, just a few moments from the docking point of grand cruise ships. Our hotel just steps away from world-class shopping, dining and entertainment. A myriad of restaurants, art galleries, museums and upscale stores will suit any taste. Plus, we are only six miles from the International Airport, so you can spend your time relaxing, not traveling. Come and enjoy our unique combination of modern comforts and old-world charms at the Sheraton Old San Juan Hotel.
About 2.7 miles, (approximately an 8-minute drive) from the ROI Venue.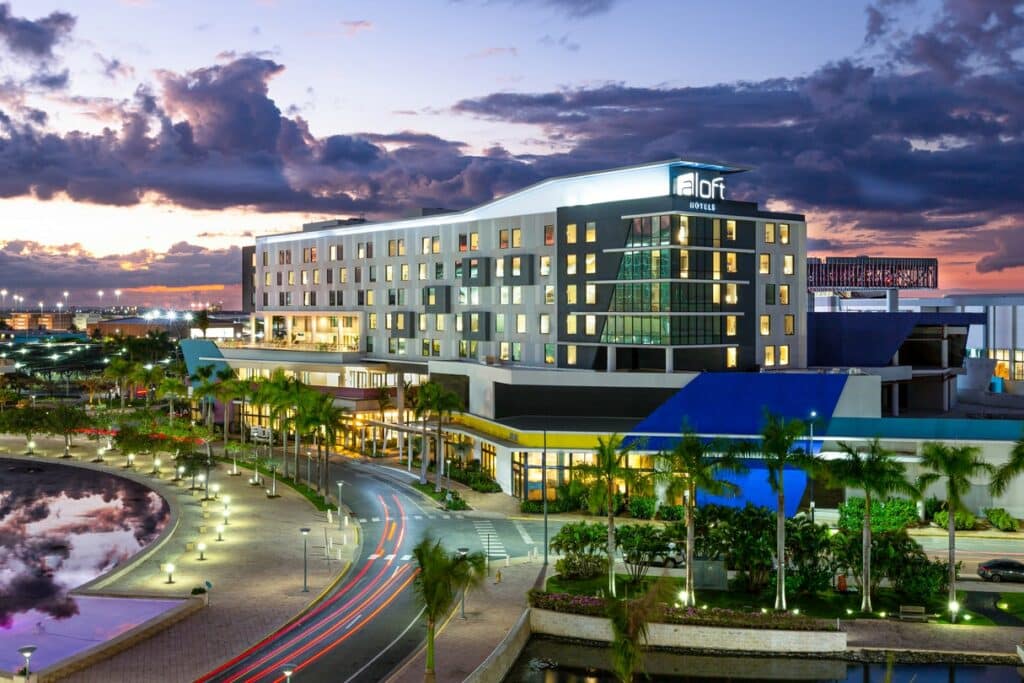 Or maybe something a bit more modern?
Stimulate your senses at Aloft, a boutique hotel in San Juan.
Aloft San Juan is a vibrant modern hotel located in Distrito T-Mobile, Puerto Rico´s new entertainment hub, catering to travelers looking for a lively social scene. We are conveniently located near Miramar, Old San Juan and the Condado beach. Our guests will enjoy the energy of the hotel that features loft-inspired design, complimentary Wi-Fi, and the technology to bring people together.Traveling with your furry friend? Meet Arf®: our pet-friendly program. At WXYZ® bar, we create the right atmosphere to mingle and enjoy the music over our original and classic cocktails. Swing by Refuel, our 24-hour grab-and-go pantry, offering a wide array of sweet, savory, and healthy snacks. Once it's time to call it a night, find sanctuary in our stylish rooms, complete with tall ceilings, plush platform beds and 55-inch LCD TVs. Planning an event? Look no further, we offer flexible event spaces and special group rates. We are all about moving forward in style, so express yourself and celebrate with us at Aloft San Juan.
About 500 ft, (approximately a 2 minute walk) from the ROI Venue.
Or is beach access a must?
La Concha Renaissance San Juan Resort
Embark on a beach getaway at La Concha Renaissance San Juan Resort, located in Condado, Puerto Rico.
Get a taste of paradise at La Concha Renaissance San Juan Resort. Our beachfront hotel provides a luxury stay just steps from Condado Beach. Explore the vibrant architecture of Old San Juan and pristine beaches in the popular district of Isla Verde. When you're ready to unwind from adventure, rest in our chic rooms and suites. Feel at ease with our plush bedding, room service, and stylish décor. Many of our accommodations feature outdoor balconies with ocean views. You can also soak in gorgeous beach views at one of our three outdoor pools. Worked up an appetite? Please your palate at our many restaurants and bars. Indulge with tapas at Solera and Asian cuisine at Komakai. Host an unforgettable destination wedding or business convention at one of our 13 indoor or outdoor venues. Before your stay reaches its end, place your bets at our on-site Casino de Mar. Whatever fills your days and nights with us, enjoy refreshing travels at La Concha Renaissance San Juan Resort.
About 2.1 miles (approximately a 7-minute drive) from the ROI Venue. 
The Condado Plaza Hilton is an oceanfront hotel in the heart of Condado.
The Condado Plaza Hilton has a breathtaking oceanfront location near Old San Juan. Your private balcony offers views of the Atlantic Ocean and Condado Lagoon. We offer direct beach access, four pools, and an underwater snorkeling trail.
Set along the Condado Beach hotel strip in San Juan, Puerto Rico, this luxury hotel's main allure is its enviable access to the capital's historic district. The Condado Plaza Hilton sits within walking distance of numerous stores and dining venues and is just 3 miles southeast of Old San Juan's cobbled streets.
About 1.3 miles (approximately a 6-minute drive) from the ROI Venue.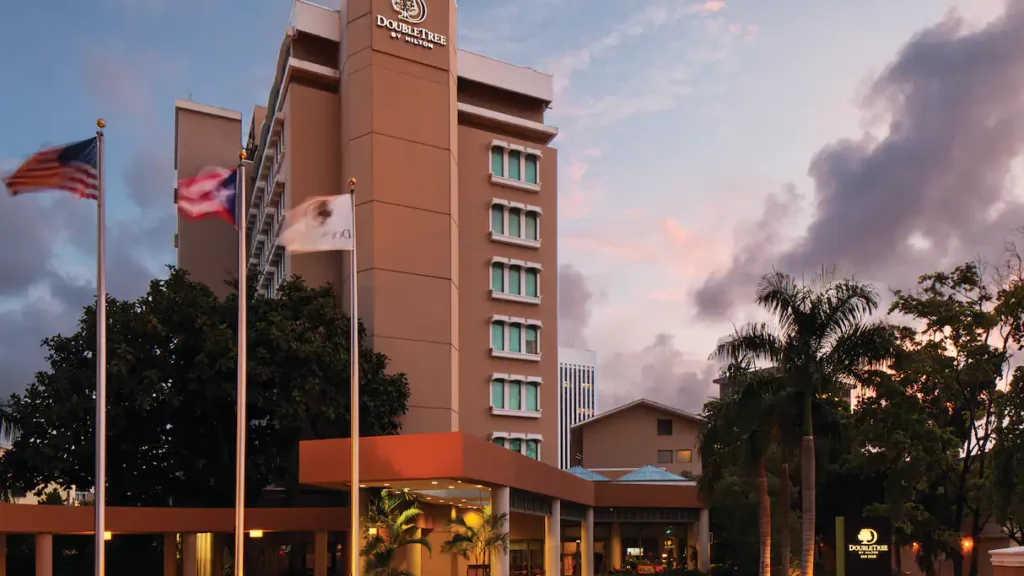 Maybe you like the nightlife!
The Doubletree by Hilton Hotel San Juan
At the Doubletree by Hilton Hotel San Juan, you'll have the Condado nightlife on your doorstep.
The DoubleTree by Hilton™ San Juan is an intimate, genuine, and personal hotel, with all the modern luxuries and comforts you expect from the Hilton Brand. We like to think of ourselves as a hotel with a boutique personality. And we know you'll agree.
Find us in the buzzing Condado area, less than a kilometer from the beach and the Puerto Rico Museum of Art. Historic Old San Juan attractions like El Morro and San Juan Bautista Cathedral are less than a 12-minute drive away. Enjoy our tropical courtyard, sparkling outdoor pool, and a modern spa.
About 2.4 miles (approximately a 7-minute drive) from the ROI Venue. 
Return On
Innovation
Investment
Ideas
Independence
Inspiration
Imagination
Intention
ROI means "return on investment." At this conference, we invite you to think about what kind of ROI you want most. Aside from the obvious (more income!), what else do you want to call into your life? Perhaps it's greater independence, inspiration, or imagination. The "I" in ROI can be anything you desire. 
The Puerto Rico Convention Center, located in Isla Grande, in San Juan, Puerto Rico. Address: 100 Convention Blvd, San Juan, 00907, Puerto Rico. Only ticket-holders are admitted into the conference.
What will I learn at ROI?
ROI is a 3 day conference with more than 24 sessions to choose from. Pick the ones that match your goals. We release a list of speakers and topics as we get closer to the conference.
Expect sessions on how to: 
Launch your first business or side hustle.

Grow your existing business from 6 figures to 7, or from 7 to 8.

Clear mental blocks and build a millionaire mindset.

Create greater visibility for your work.

Lead with your values to inspire your clients, team, and community.

Woo investors and inspire them to say "Yes!" to your business vision. 

Map out your game-plan to create a 7-figure net worth and generational wealth.

Create massive success as a woman, BIPOC, LGBTQIA, disabled, or neurodivergent entrepreneur (because it's time for us to have more wealth, peace, power, and joy!)
What time does ROI begin and end?
GENERAL and VIP 

Start: Wednesday January 17, 2024. Morning.

End: Friday January 19, 2024. Evening. 

GENERAL AND VIP: We recommend that you arrive in San Juan on January 16 (day before the conference begins) and leave on January 20 (day after it ends). That way, you won't miss a single moment.

GOLDEN 

Start: Tuesday January 16, 2024. Morning.

End: Friday January 19, 2024. Evening. 

GOLDEN: We recommend that you arrive in San Juan on January 15 (day before the Mastermind) and leave on January 20 (day after the conference ends). Consider extending your trip even longer to enjoy the beaches, restaurants, spas, and vibrant nightlife.
How much is a ticket to the conference?
GENERAL $2,495 USD
VIP 10,000 USD
GOLDEN 20, 000 USD
 VIP and GOLDEN Tickets are currently on sale for 25% off.
Which airport should I fly into?
Fly into Luis Muñoz Marin International Airport. 
From there, it's a 15-minute cab ride to the Puerto Rico Convention Center where ROI happens.
I need to book a hotel near ROI. Recommendations?
Yes! We recommend:
Condado Vanderbilt Hotel

Sheraton Old San Juan

Aloft

Sheraton Hotel & Casino

The Condado Plaza Hotel

La Concha Renaissance San Juan Resort

Doubletree by Hilton Hotel San Juan
In addition, there are plenty of Airbnb and VRBO rentals in San Juan if that's your preference.
I'm an introvert. Is this for me?
You'll find plenty of introverts at ROI. They always tell us, "I almost didn't come … but I'm so glad I did." Tips for introverts:
Schedule a Braindate at ROI. Braindates are private conversations. 1:1 or small group.

Get the VIP or GOLDEN Ticket which gives you priority check in (shorter lines) and access to the Million Dollar Terrace (private lounge with fewer people around and plenty of comfy seating to unwind). 

Take time for yourself in between sessions to enjoy the ocean breeze, take a walk by yourself, or write money-making ideas in your notebook. 

Stay in San Juan an extra day or two after the conference to decompress. Hit the beach or book a spa treatment.
Introverts are deep listeners, brilliant entrepreneurs, and have a quiet power that's magnetic. You belong at ROI and you'll love the experience.
I haven't started a business yet. Should I come?
​​Yes! If you're thinking about starting a business or side hustle, come to ROI. Get inspired by entrepreneurs running 6, 7, and 8 figure companies. See what's possible. Learn how to launch your business successfully, get your first clients in the door, and make money immediately. 
I just started a business. Is this for me?
Yes! At this conference, we welcome entrepreneurs of all experience levels. You've been freelancing for two years and ready to double your income? Get in here! You're a CEO with a team of 5 people and curious about the latest cutting-edge marketing techniques? You belong in this room.
There's something for everyone at ROI. Each attendee has something to offer and something to learn. 
I'm a seasoned entrepreneur. Is ROI suitable for someone at my level?
Yes. If you're already making multi-6, 7, or 8 figures, you'll meet people at your level and above, and you'll find presentations that match your goals.
Want to woo an investor? Thinking about selling your company? Ready to land a top literary agent and write your bestselling book? Want to pass your company down to your children one day? Come to ROI to learn from people who are doing it.
We recommend The VIP or GOLDEN Ticket, because you'll meet seasoned entrepreneurs and network with speakers, celebs, your host Rachel Rodgers, and special guests.
I have a 9-5 job. I'm not an entrepreneur. Should I come?
Even if you have a 9-5 job, you can think like an entrepreneur … and in our current economy, you should. This means looking for creative ways to expand your earning potential, whether it's a side hustle, investing, or negotiating for higher pay and profit-sharing at your current job. If you have an entrepreneurial spirit, you're welcome at ROI.
What should I do to get ready for ROI?
After purchasing your ticket, check your inbox. We send you the official ROI Checklist. A helpful list of everything you need to do prior to the conference, including: book your flight, coordinate childcare, pack your bags, set your intention, and more. Tick off each item and exhale with relief … because you'll know you're not forgetting anything important!
In addition, we invite you to attend the ROI Prep Session (online). A strategic session on how to get the biggest return on your investment from this conference. We show you how to leave ROI with new leads, new clients, new friends, brilliant money-making ideas, and exciting media and visibility opportunities. Whatever you spend on your ticket, we want you to gain 10x more.
Is the cost of my ROI ticket a tax-deductible business expense?
Yes. If you're self-employed and live in the US, the cost of your ROI ticket (and any related travel expenses: airfare, hotel, etc.) are likely to be a tax-deductible business expense. 
Why? Because ROI provides training to "maintain or improve skills you need in your trade or business" (to quote the IRS). Categorize your ROI ticket as an "education expense," "professional training," or "professional membership/association dues." 
Double-check with your tax preparer to make sure this can be a deduction for you. In most instances, it will be.
How many heterosexual cisgender white men will speak onstage at ROI?
Minimal! We prioritize the voices of those who have been historically excluded, which includes women, BIPOC, LGBTQIA, people living with a disability or chronic illness, and neurodivergent people. You're welcome!
Why do ticket prices increase the closer we get to the event?
By getting your ticket early, you help us get an accurate head-count of who's coming. This helps us plan ahead successfully, pay our vendors in advance, and avoid last-minute changes which add extra costs to our event budget.
If you wait until the last minute, you can still get a ticket (unless the conference is sold out…) but the price gets higher as we get closer to the event. Get your ticket early and pay less!
ROI is a big investment for me. Is it really going to be worth it?
At ROI, you will:
Meet high caliber clients who want to hire you … immediately.

Connect with podcast hosts, journalists, and other people in the media.

Exchange business cards with top publicists, literary agents, and speaker agents.

Learn smart moves to increase your income by $1k to $10k+ every month (no more leaving easy money on the table…)

Get exposed to money-making possibilities that never occurred to you before. 

Create a plan to build a 7-figure net worth and generational wealth for your family.
Whatever amount you invest to get your ROI ticket, you gain 10x more. And yes, we have the #receipts. Check out rave reviews from people who attended the last conference. 
I have a General Ticket. Can I upgrade to VIP or GOLDEN?
Yes!
Follow these  instructions:
Purchase your VIP or GOLDEN Ticket

HERE

. 

After you purchase your VIP or GOLDEN ticket, email

info@helloseven.co

and say REFUND or TRANSFER. 

REFUND means, "I got my VIP or GOLDEN Ticket! I want a refund for the General Ticket that I previously bought." We'll process a full refund. You'll get the funds in 7-10 business days.

TRANSFER means, "I got my VIP or GOLDEN Ticket! I want to keep my General Ticket, too. I'm going to give my General Ticket to a team member, colleague, friend, or family member." We'll transfer it to their name.
Enjoy your upgraded experience! Congratulations on investing in yourself like the VIP that you are.