If you're planning to fly, we recommend booking your flight to San Juan International (SJU), which is minutes outside of San Juan.
Our recommendations
Fly into Luis Muñoz Marín International Airport, also known as the San Juan Airport (SJU). 

From the airport, it's a 13-minute car ride to get to ROI.

Puerto Rico has Uber and Lyft, as well as numerous taxi and limousine companies.

There are 588 nonstop flights from the mainland U.S. to Puerto Rico.
Fun Facts! How long does it take to get to Puerto Rico?
From NYC, 3 hours and 45 mins.

From Atlanta, 3 hours and 25 mins. 

From Miami, 2 hours and 30 mins. 

In other words: closer than you think.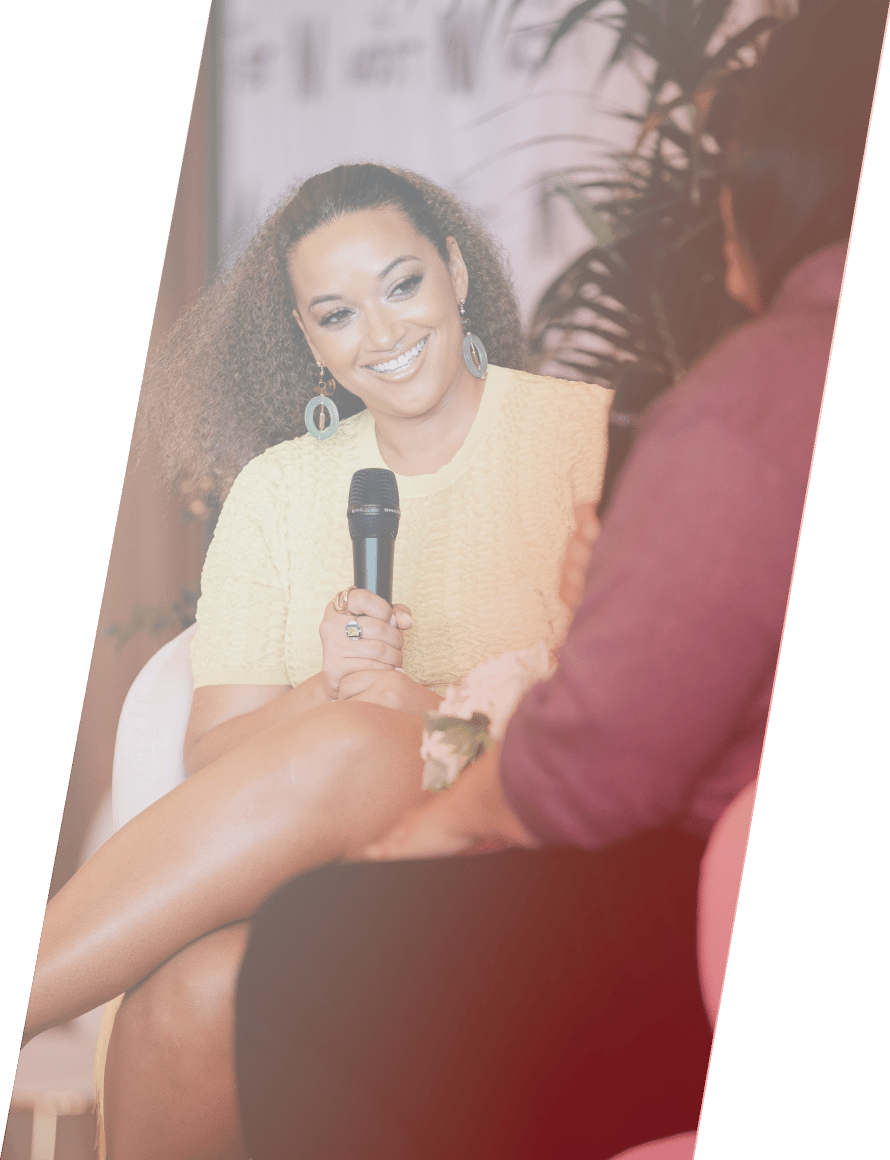 Please bring: 
Photo ID

Your laptop, tablet, or a notebook and pen to take notes

Your current business plan and any burning business questions

Business cards or a QR code that points to your LinkedIn (so you can make connections)

Clothing that's suitable for warm weather AND makes you feel like a million bucks

A coachable spirit of possibility, hope, and excitement, and a willingness to learn and take action.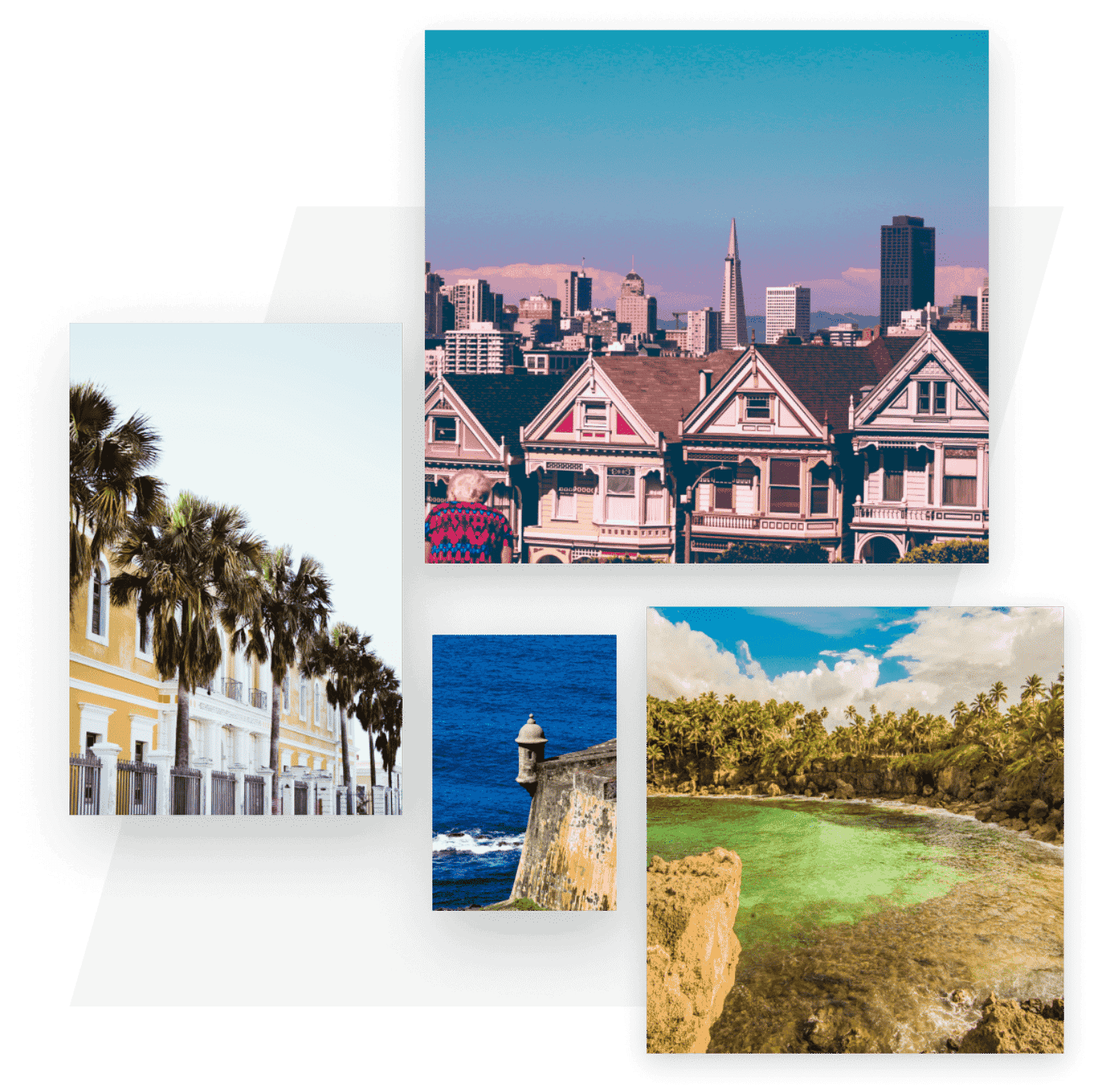 Everything you need to know: 
In January, the weather in Puerto Rico ranges from 72° F (low) to 83° F (high). 

U.S. citizens and permanent residents DON'T need a passport (or visa) to visit Puerto Rico, because it's a territory of the United States. Just show up!

You have a U.S. cell phone plan? You DON'T need an international phone plan in Puerto Rico. You already have coverage. You're all set.

The currency used in Puerto Rico is the U.S. DOLLAR. Bring your Benjamins!

270 miles of coastline and stunning white sand beaches. Just sayin'.

Sonia Sotomayor—first woman of color and first Latina member of the U.S. Supreme Court—comes from Puerto Rican ancestry. So do Lin-Manuel Miranda and Jennifer Lopez. 

Home to the largest rum distillery in the world. The piña colada was invented in Puerto Rico. So…
Looking to find your Million Dollar Squad at ROI?
Meet your business soulmate, mentor, and/or mentee through our Braindates platform.
You are attending ROI to meet your squad and learn how to scale your business. How do you spark meaningful conversation? It all starts with a braindate.
Braindates are one-on-one or small group conversations based on topics posted by you and fellow participants in the Braindate Topic Market. They can be used to brainstorm, solve challenges, share expertise or experiences while meeting new (brilliant!) people.
Puerto Rico COVID-19 Protocols
As of October 1st, masks are optional at all events, regardless of attendance level, and attendees are no longer required to show proof of vaccination or a negative COVID-19 test upon entry.
Public beaches, natural reserves, and marinas are open, following social distancing recommendations.
Guests do not need to present proof of vaccination or a negative test result upon arrival to hotels, paradores, guesthouses, and short-term rentals across the Island, however, individual properties reserve the right to implement any specific measures.
Domestic travelers are not required to present proof of vaccination or a negative test prior to arriving in Puerto Rico
International travelers that are not U.S. citizens/permanent residents are required to provide proof of vaccination, but are not required to present a negative test prior to arriving in Puerto Rico.
COVID-19 Protocols for R.O.I: The Millionaire Summit
Attendee Protocols
Pre-Arrival Testing: All attendees must provide proof of a negative COVID antigen test taken within 24 hours of their check-in to ROI: The Millionaire Summit. Our preferred vendor for antigen tests and results tracking is On/go and the On/go app; tests can be purchased via Amazon for $10. Testing will be provided for VVIP ticket holders upon arrival.
Upon Arrival: All attendees must share their negative test results upon event check-in.


Negative test results will need to be shown via the On/go app
Once negative results have been confirmed, attendees will be given a credential for event access
Please note that vaccination is not required to attend ROI.

PPE: All attendees are strongly encouraged to wear masks whenever possible in advance of the conference, especially during travel + aboard shared/public transportation.
Sanitation: All attendees are strongly encouraged to wash their hands frequently and maintain social distancing whenever possible.
Frequently Asked Questions
ROI is a three-day summit designed to educate, connect, and inspire you through workshops, presentations, and keynotes. It will be held at the Puerto Rico Convention Center in San Juan on Tuesday, January 24th-Thursday, January 26th, 2023.
What are the dates of ROI?
The ROI summit dates are Tuesday, January 17 -Thursday, January 19, 2023. Plan your travel accordingly!
In Hello Seven's membership program, "We Should All be Millionaires: The Club," we believe every person who *wants* to become a millionaire *can* become a millionaire. Our club members are called Shmillies, short for Shmillionaires.
What is the cancellation policy?
The ROI Summit does NOT offer any refunds for ticket purchases, with no exceptions. If you are unable to attend, you may transfer your ticket to another party.
What airport should I fly into?
The final destination for your trip is Luis Muñoz Marín International Airport (SJU).
What are my best transportation options in San Juan?
There are a few options for traveling around San Juan.
We recommend Uber, but be mindful that service may be limited. Alternative transportation options include a taxi, bus, trolley service, or renting a car at the SJU airport.
Lyft is not available in Puerto Rico. Look at options and service limits before traveling outside the ROI summit.
What is the COVID-19 policy at ROI?
We're taking proactive steps to keep our participants safe and healthy.
Every participant, including attendees, guests, and staff, must comply with a COVID-19 test before arrival at Puerto Rico Convention Center through our preferred test provider, On/Go.
Masks will be available on-site upon request.
What happens if I get sick in Puerto Rico?
Puerto Rico's healthcare system is considered one of the best in the Caribbean. Please check your health insurance before coming to Puerto Rico. United States insurance policies may cover your medical expenses. However, we recommend you travel with your medical information and ask your insurance company about emergency evacuation coverage.
Is there security at the PRCC?
The Puerto Rico Convention Center (PRCC) will screen all attendees before entering the convention center.
On-call security will be available in case of emergencies.
Badges are required to enter the conference. Badges will be distributed upon check-in at the Puerto Rico Convention Center.
Attendee check-in will be available from 12 pm-6 pm local time on January 23 and 8 am-12 pm on January 24.
Do I have to sign up for sessions?
Some sessions, such as podcast studio recordings, have limited capacity and will require you to sign up in advance.
Maximize your ROI by planning your session attendance in the Sched app calendar.
Uncover inspiration and independence with unique experiences with a variety of price points while in Puerto Rico with our DIY session.
During the DIY session, Shmillies can participate in various activities, including volunteering, dining, and nightlife options.
More details will be available in the Sched app.
Puerto Rico is beautiful in January!
Average temperatures range in the low 70s °F (21 °C) to mid-80s °F (28 °C), and the days are typically sunny. We recommend packing sunscreen and a swimsuit.
Some local restaurants and nightclubs have dress codes that do not allow shorts. Make sure to check their details before going out for the night.
See the 'Dress Code' question for more details about ROI clothing requirements.
I'm planning on attending alone, advice on how to make the most of the experience?
We're glad you are coming!
Alone or with a group, we've created opportunities for you to network and build your Shmillie squad at the ROI Summit.
Here are just a few ways you can build your network:
Utilize Braindates to connect with like-minded people
Get to know other Shmillies at our Welcome Reception
Level up your networking experiences with the VVIP ticket offering
What is the dress code at R.O.I?
Every human being deserves to be financially secure and have a rich life – rich in money and rich in peace, power, and joy. So dress to feel like that rich millionaire!
We recommend you keep your clothing business casual.
Reminder - Puerto Rico averages between low 70 °F (21 °C) and highs of 83 °F (28 °C). Plan for warm weather.
How is Hello Seven giving back to Puerto Rico post Hurricane Fiona?
Hello Seven is partnering with several local organizations.
We are offering local volunteer opportunities during the DIY sessions giving attending Shmillies a chance to serve the community.
I have another question...